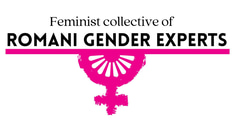 Ciriklije pakalije
We are very excited to present you another one of our winners, Valentina Eminova: "Dear ones, Let me start with thanking u for this nice surprice! Im very happy for your special attention. Wow! So cool, u made my day. I can't wrote my luck down, ok that was a joke; I'm a poet, I can write joy, pain, love, hate, confusion, delusion, fight, peace and revolution down. My name is Valentina Eminova, 29. Born in Hamburg, raised in Vienna. I started with poetry when I was the first time desperately in love with freedom. I was not allowed to love, because of my cultural background in patriarchy capitalism. My parents tried many times to force me in marriage. My poem: "ciriklije pakalije", is a product of the anger of our society and a call to all woman, especially our romnjas to stand up and fight for their rights. In deep solidarity, Valentina Eminova"
Ciriklije pakalije
E romnije tu maj zuralije
Ce bala kale, ce vusta lole, ce jaka jos maj kale
Ci koza kali , ci godji celjardi va tu san romni
Sagodi cirikli suzi, naj mangli, tu trubus te leti ! Ciriklije Pakalije, djanav ce
paka dukan. Dikav ce jaka Ni asan
Djanav ce jasva katar.
Djanav co ilo
si baro,
ali co drom si panglo.
Sar cajorie tu ka asunes aves laci, , te paca pe ci familija.
Ka dentu fustaja te piraves, lendji princeza te aves.
Ka sikawentu sar te gostvis, sar te cistos sar te spremos.
sar cej co dad ci dej von mangen te vazde, te cisto, te cele, te ane, te de.
Ce prala co dad von besen, slabo usten, samo mangen.
Sar romni ci sasuj co sastro von mangen te vazde, te cisto, te cele, te ane, te
de
Co rom, co sastro von besen, nikat ni usten samo mangen cak i maren cak i
maltreterin sawo Aspirin.
Eke kaj areslan, gaci ljubav dijan, dik kaj areslan caje putar ce jaka
Bicindento sagodi bakri, te ave lendji bori. Te aves lesi romni.
Baro bijav naklo, pile, hale, celde taj mekletu lende co dad ci dej.
Gja si gova, kana najsan vise cej.
Ciriklije akana san romni. Eh romnije
ciriklije pacama ljubav naj tare minije, naj tare fustaja taj naj tar sa o zlato,
paca pe mo svato.
Baro bijav cikno ljubav. Kelela kelela e suzi bori. Putar ce paka caje taj leti.
Tu naj san lendji lutka, tu saj aves prezidentka ce zivotostar, kaj lendje nikat
nikaves dosta.
Eh ciriklije pakalije, cer so tu manges,
i ako pe puv peres, usti kaj tu san romni maj zurali!